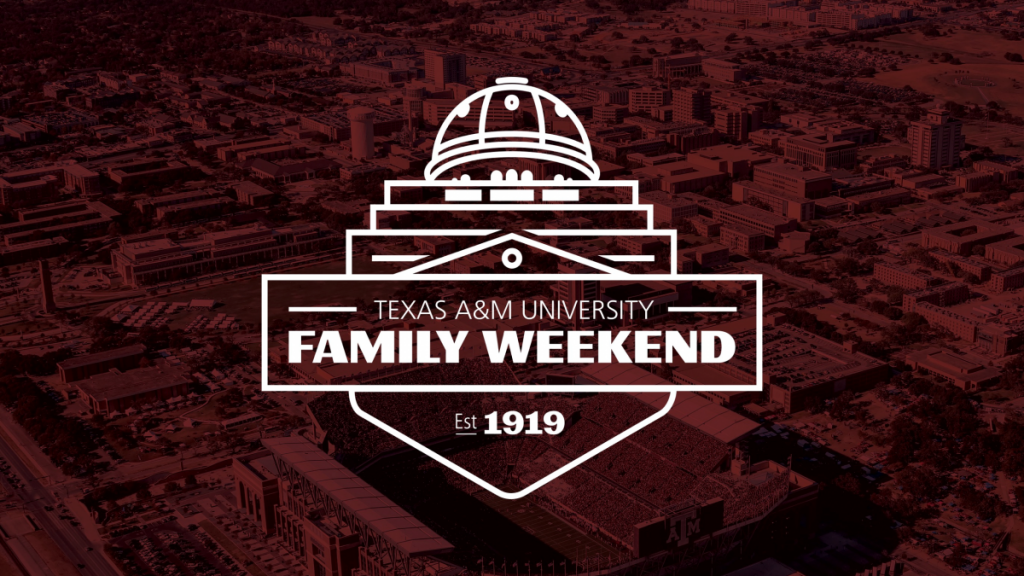 Texas A&M Family Weekend is April 13th - 15th, 2018
Find us on Twitter: @TAMUFamilyWknd
Facebook: @TAMUFamilyWeekend
Instagram: tamufamilyweekend
Website: familyweekend.tamu.edu
---
Family Weekend Committee Announces Name Change!
College Station, July 19, 2016: Family Weekend Committee, a sponsored student organization in the Office of New Student & Family Programs announced today that the Aggie tradition formerly known as "Parents' Weekend" will be shifting its name to Family Weekend. Committee Director, Alena Lerma '17, announced the change this morning as a way to "…be more inclusive of our entire student body, and to make all Aggie Family Members feel welcome on our campus."
Family Weekend has been a Texas A&M tradition since its inception in 1919. Although it has seen several name changes over the years, Family Weekend has remained a constant for students and families at Texas A&M University. As the host of activities ranging from the formerly held Bevo Burn Barbeque to the newest Family Weekend tradition, Aggie Family Game night, Family Weekend Committee is a sponsored student organization that manages all aspects of Family Weekend. Family Weekend is a special time dedicated to Aggie parents and family, and gives Aggie students a chance to express their gratitude to those who have impacted their lives. This upcoming school year, Family Weekend will be held on April 7-9th 2017.
Speaking on behalf of the nine Family Weekend Committee members, Director Alena Lerma commented on the change by saying, "We wanted to make it clear to our student body that no matter what their families consist of or look like, they are all appreciated and a part of our extended Aggie Family. Family Weekend is a time for all supporters of A&M students to be honored."
Mark your calendars for April 13-15!
Texas A&M Family Weekend 2018 will be something you won't want to miss!
---